Newsletter 14 March 2020
14/03/20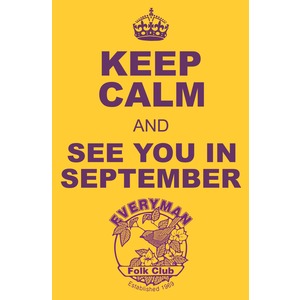 The sad news ...
Due to the escalating Coronavirus situation, the Everyman Folk Club has had to make some difficult decisions regarding the remaining events of this season. With concern growing about the spread of the virus and the strain on our wonderful NHS, we feel it appropriate to minimise the risk to you, our Guests, and our Venue Staff. We appreciate some folk are likely to be nervous about attending, or are already self-isolating. Accordingly, we are cancelling the remaining three events of this season - Friday 27 March 2020, Friday 24 April 2020, and Friday 29 May 2020. We know folk will be disappointed – we certainly are – but your good health and well-being is our priority. Hopefully, notifying you of this straightaway will reduce the inconvenience likely to be caused.
The happy news ...
We are delighted that arrangements have been made to reschedule all three events. Cohen Braithwaite-Kilcoyne will be with us on Friday 28 May 2021, Pete Morton is coming on Friday 29 January 2021, and Doug Eunson & Sarah Matthews will perform on Friday 26 February 2021. Tickets already issued for March, April and May 2020 will be valid for these substituted dates, and we will be contacting existing ticket holders individually.
What next ...
Whilst it is very sad that we must press the Pause Button for the moment, we do intend to welcome you back to the Everyman in September. The full guest list for the September 2020 to May 2021 season is shown below, and we hope we can rely on your support. Club funds will be seriously affected as our fixed costs remain in place (room hire, licensing, insurance etc), and we are compensating booked Guests for the financial loss they will experience as a result of these cancellations. However, if you would like to consider treating tickets already purchased as a donation, and you endeavour to buy extra strips of raffle tickets in the future, the Everyman will endure and be able to maintain it's existing, exceptionally good value, ticket prices of £5 in advance/£6 on the door!
You can help ...
In the meantime, performing artists are going to be relying more and more on sales of their recordings so here are links to their CDs:
Cohen: www.wildgoose.co.uk/albums/wgs422cd-outway-songster

Pete: www.petemorton.com/shop

Doug & Sarah: www.cothrecords.co.uk
Thank you all very much ...
for your understanding in these exceptional times,
Steve, Mary, Ken & Ade
Everyman Folk Club - September 2020 to May 2021

Friday 25 September 2020: Rosie Calvert & Will Finn
Friday 30 October 2020: Jack Rutter
Friday 27 November 2020: Mick Ryan & Paul Downes

Friday 29 January 2021: Pete Morton
Friday 26 February 2021: Doug Eunson & Sarah Matthews
Friday 26 March 2021: Pete Coe
Friday 30 April 2021: Brian Peters
Friday 28 May 20201: Cohen Braithwaite-Kilcoyne